- Overview -
About Camp Natoma
Camp Natoma is a summer tradition for many generations of families. Since 1941, campers have spent a summer week sleeping under the stars, rock-hopping through Franklin creek, and singing silly camp songs. Traditional Camp Natoma sessions welcome youth in grades 1 through 11 to a 6 night program. Delicious, nutritious, meals are made on-site from local produce. Campers explore and grow as they share laughter with new friends, swim, hike, and sing in the protected 360-acre oak woodland. Custom Programs are offered to local community groups.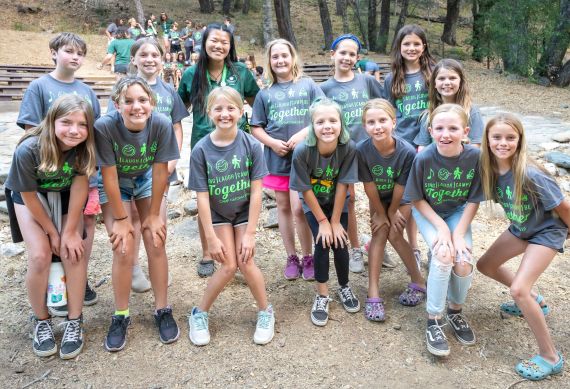 Beliefs
We believe that Camp Natoma is the place to be your best and true self, and by experiencing the benefits of time in nature, campers form strong personal connections resulting in a community valuing contribution, teamwork, and service.
We believe in a culture of respect and responsibility; encompassing our campers, their families, our employees, and the environment.
We believe in practicing intentional kindness to appreciate the value that each individual brings to Camp Natoma.
We believe in a positive and cooperative community that acknowledges and embraces diverse identities.
We believe that everyone should continually grow and have opportunities for service through their connection with camp.
We value exploration, play, and trying new things.
We value being outdoors in the wilderness and connecting with nature in simple and profound ways.
We believe that when we put all this together in an exceptional camp experience, we create joy.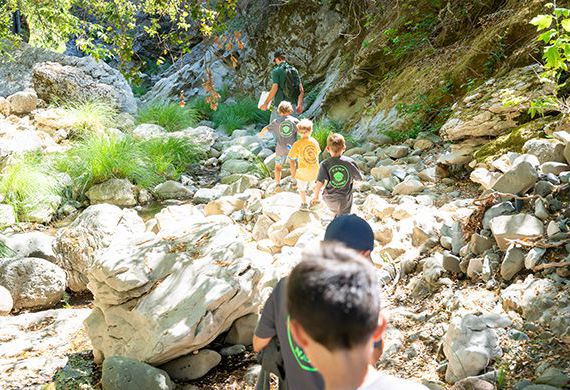 - Camp Natoma -
Accreditation
Camp Natoma is accredited by the American Camp Association. Camps that are accredited go above and beyond the basic and minimal state licensing for overnight camp operations. The accreditation seal validates a program's high standards for safety and appropriate programming. Standards for accreditation include requirements for staff hiring, screening and training, a physical inspection of camp facilities for safety, oversight of healthcare policies and procedures, guidelines for food service, and approved program content. We recommend parents take a camp's accreditation status as a top factor when choosing a high quality and safe summer camp program.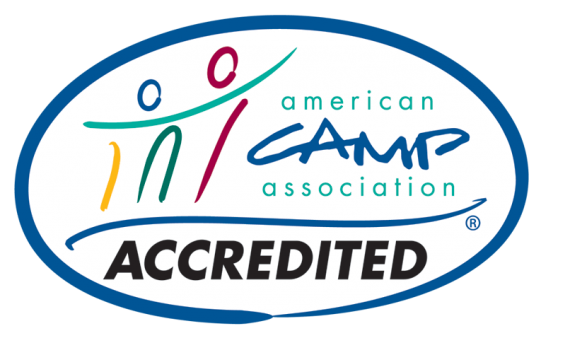 - Transportation -
The Amotan Express
Transportation from Thacher Winery via one of the bright green Camp Natoma busses, named the Amotan Express and the Amotan Adventure, move the camper from their normal life to a unique world where songs, laughter, and adventure intertwine for a transformational experience. Each day, campers participate in a variety of outdoor activities. Program options vary depending on camper age and include swimming, hiking, archery, arts & crafts, nature exploration, drama, music, geocaching, outdoor skills, hatchets, games and more. Campers have recreational swim time daily and attend an entertaining and interactive nightly campfire program.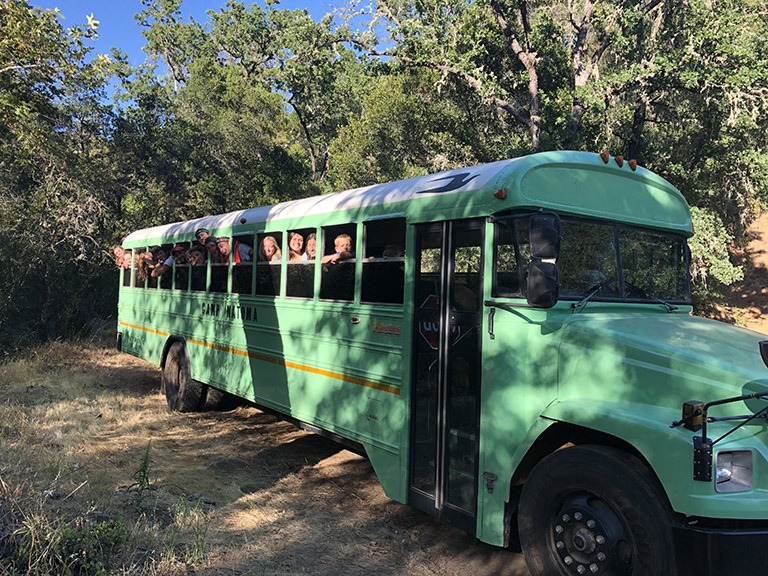 - Location -
Paso Robles, San Luis Obispo County
Camp Natoma is located in the Adelaida mountains west of Paso Robles, California. It encompasses 360 acres and is nestled in a valley filled with oak trees and a spring-fed creek.
- Immersed in Nature -
No Distractions
Campers, parents, and staff report that perhaps one of the greatest things about going to Camp Natoma is being outside all week, unplugged from technology and immersed in nature. In our fast-paced, technology-centered world, camp can be a respite for kids on screen time overload. Camp Natoma provides campers with time to play in a natural settings - an oak forest and Franklin creek. This outdoor experience enriches a child's perception of the world, invigorates the senses, and sparks curiosity.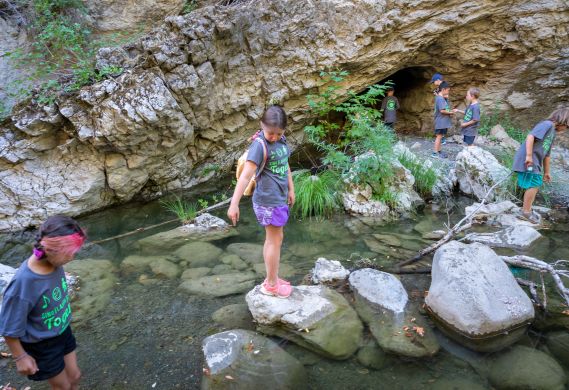 - A Welcoming Environment -
Home Away From Home
Campers say Camp Natoma is their second home. The community and traditions at Camp Natoma make it a welcoming environment for all kids. A highly qualified and trained staff guide campers in team-building activities, facilitate new friendships, and support opportunities for gains in self-reliance and self-confidence.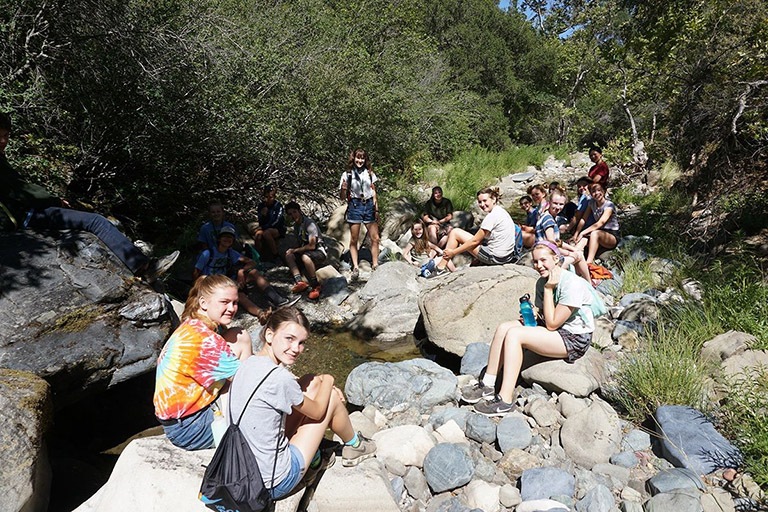 - Learning and Improving -
Important Life Skills
Youth gain important life skills and improve their physical and emotional well-being through an overnight summer camp experience. At camp, kids are active all day - hiking, swimming, climbing, playing. Camp helps kids learn about themselves through non-competitive activities, a diverse community, and experienced, caring role models. Campers set goals and try new things.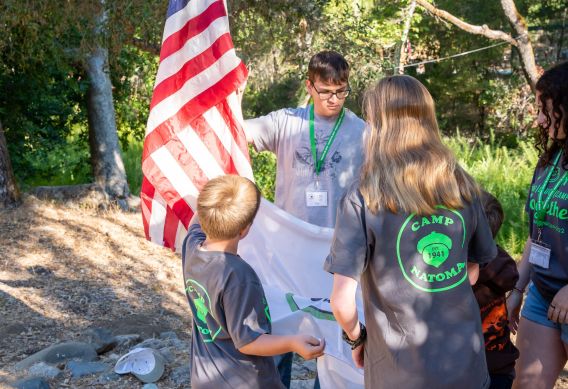 - Fun For All Ages -
Programs For Everybody
Regular Sessions are for boys and girls who have completed 1st-9th grades.
Teens who have completed 10th or 11th grade can apply to participate in the Camp Natoma Leadership Program.
This is an opportunity to discover their strengths and learn and practice leadership skills. An application is required. Learn more about our Leadership Program here ›.
Family Camp is for all ages. Adults must accompany youth under 18.
Camp Natoma welcomes new campers every summer. No prior camping experience is needed. We encourage new families to check out videos of Camp Natoma and learn more about the camper experience. Online registration begins in November each year.

- Camp Changes Lives -
Can I Visit Camp Natoma?
Yes - family tours occur each June!