- Camp Natoma -
Other Programs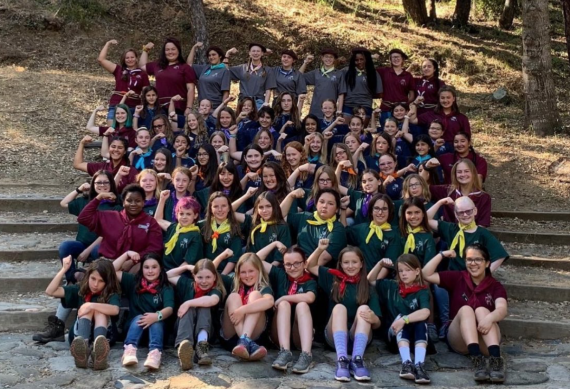 Custom Programs
Who do we serve?
Local community groups including Girl Scouts, Cub Scouts, church groups, school groups, youth groups, sports teams, non-profit boards, family groups
What can groups do?
All programs are completely custom. Participants can sleep under the stars on Camp Natoma cots or bring their own tents. Meals can be provided by kitchen staff or you can do cook-outs on the camp fire.
The pool is available for use and lifeguard staff is provided by Camp Natoma.

Other optional activities include guided hikes, archery, tomahawks, arts & crafts, teambuilding, leadership training, camp fire programs, geocaching, night time sensory experiences, skits & drama, and more!
How many people can participate?
Participant capacity is 130. Minimum group size is 25.
When is Camp Natoma available?
We offer custom programs in May, early June, late August, September and October.
How do we get to Camp Natoma?
Camp Natoma provides bus transportation from Templeton, Paso Robles, or San Luis Obispo. There are limited in/out opportunities due to the remote location. Caravan is required for all vehicles.
How much does it cost?
There is a 2-night program minimum. Rates are completely dependent on season, number of participants, meals, transportation, and activities.
How do I find out more?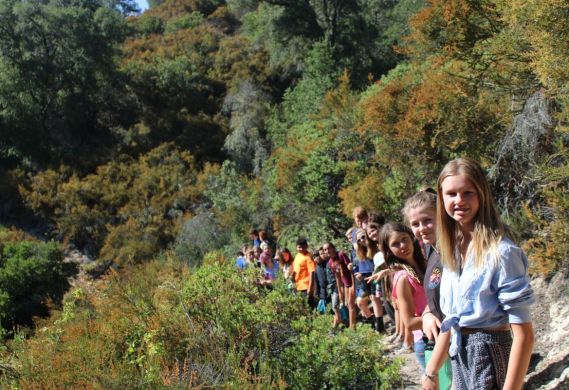 Kids' Hiking Series
Participants ages 6-14 enjoy a fun one-day Camp Natoma experience. Each day includes: flag ceremony, team-building games, a nature hike through oak woodland and Franklin Creek, picnic lunch, afternoon campfire songs & skits.


Fall 2023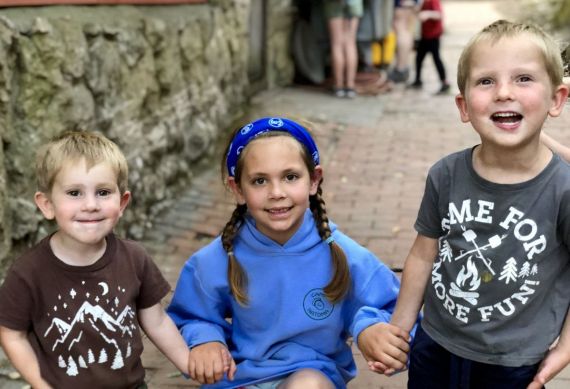 Family Camp Service Weekend
Enjoy Camp Natoma with fun for the whole family.
A special session with all the traditional activities & more!
Family camp is for everyone - moms, dads, grandparents, aunts, uncles, kids of all ages.
Spend two nights under the stars or in your own tent.
Spend your time hiking, swimming, practicing archery, making crafts, learning songs, as well as participating in getting camp ready for summer! Service projects will include raking trails, de-winterizing program areas, clearing campsites, and more! Enjoy two entertaining campfire presentations and 5 delicious family-style meals.
May 27-29th, 2023 (Registration Opens April 1st)
Campsites will be selected upon arrival. Beds and mattresses will be provided. Hilltop & Acorn campsites will be family-camp style. Single gender campsite available as needed.

Family Camp participants are expected to participate in the schedule of activities. All attendees must complete a health history form, a signed liability waiver, and abide by Camp Natoma policies. All participants will be considered "campers" at Camp Natoma and the staff will provide programming, cooking, and more! This policy is in effect to meet safety and accreditation standards.
Campers must follow the designated camp schedule and must remain in central camp unless participating in an authorized activity. Camp curfew will be enforced.
Rules for campers:
Respect yourself, each other and the camp.
Follow safety rules and instruction from staff.
Have a desire to participate in camp programming in a positive way.
Camp Natoma has a zero tolerance policy for drugs, alcohol and violence.
What should I bring to Family Camp?
Sleeping bag, Pillow, 2 changes of clothing, Flashlight, Sturdy walking shoes, Warm sweatshirt, Hat with brim, Warm pajamas, Swimsuit, Towel, Water Bottle, Personal toiletries, Sunscreen, Mattress cover (old sheet), Non-aerosol & non-DEET insect repellent
How do I get to camp?
Family Camp attendees will ride the Camp Bus. Offsite parking location in Templeton.