- Camp Natoma -
Facilities
Camp Natoma is a rustic, entirely outdoor camp facility. A 360-acre oak woodland has a network of hiking trails and several spring-fed ponds. Franklin Creek runs through both sides of camp, creating hours of rock-hopping fun for campers. The creek and ponds are home to turtles, frogs, fish, crawdads and more. The dry creek bed is where campers look for soapstones - unique carvable rocks.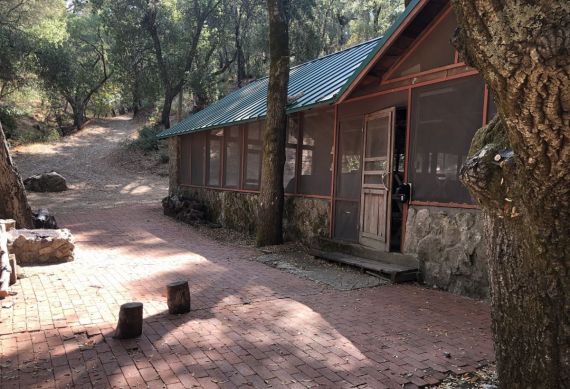 The Dining Hall
The Dining Hall is the largest structure at Camp Natoma. It was originally entirely open air, and before being built, campers and staff used just a cook tent. Today, the Dining Hall seats 120 campers. Due to the location and the beautiful rock base, the screened-wall Dining Hall keeps cool in the heat of summer. Campers enjoy 3 family-style meals each day.
Recently, the Dining Hall has received some major upgrades:
2013 - New tables and benches
2014 - A brand new green metal roof
2016 - New large kitchen appliances, stove, food warmer, dishwasher
2017 - New kitchen floor and storage
2020 - New hand washing facility
2021 - New refrigeration, freezer unit, and ice machine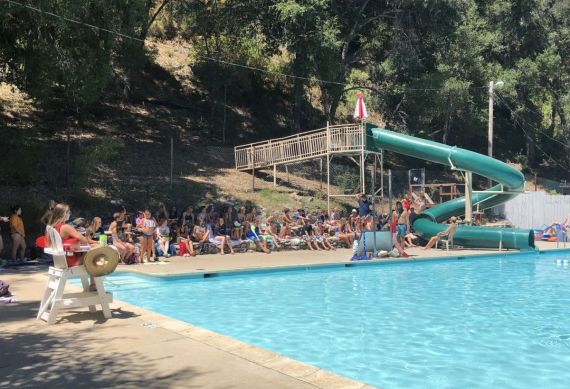 The Swimming Pool
The coolest place in camp is the Swimming Pool. Sometimes known as the "Kodamini", the cool blue pool is 25 yards long and has a twisting, enclosed water slide. The pool was completed in 1971.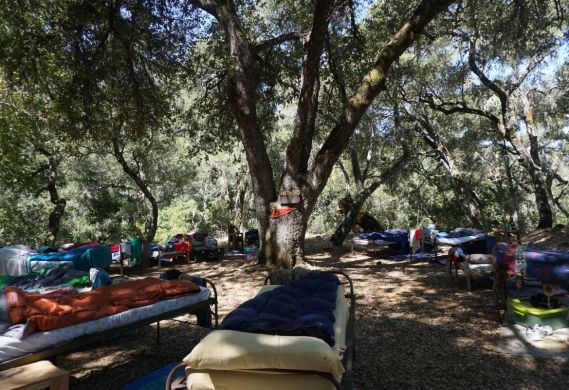 Campsites
Everyone sleeps outside "under the stars" at Camp Natoma. There are 5 main campsites: Hilltop, Acorn, Franklin, Stockton and CIT Camp. Each campsite has smaller group areas, restroom facilities, a drinking fountain and sink. Shaded by giant oak trees and nestled on hillsides hidden around central camp, campsites have iron-frame outdoor cots with beautiful views of the stars above.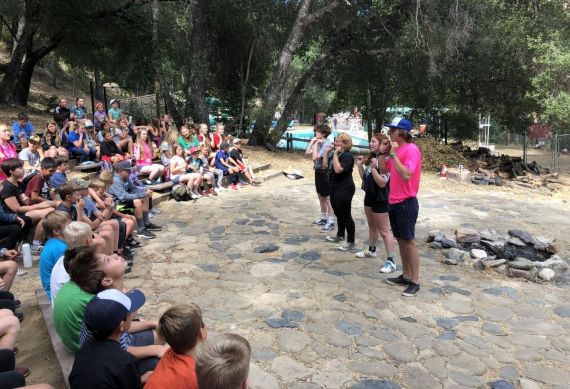 The Fire Ring
The Fire Ring is where everyone gathers in the evening for songs, skits and hilarious entertainment. There is a special rock formation in the shape of a Thunderbird next to the fire.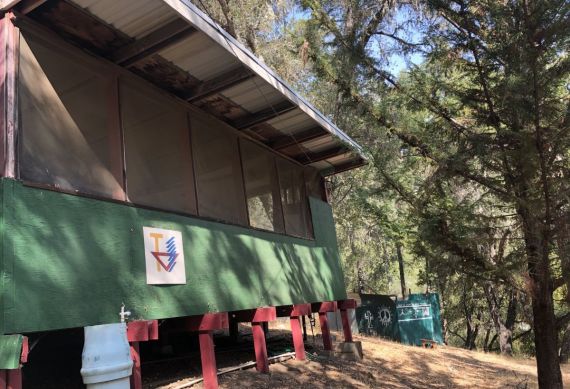 Nursie's
Nursie's is the name of our medical cabin - the place campers go for healthcare needs. Our friendly onsite medical staff (an RN or MD) take care of campers in this centrally located cabin.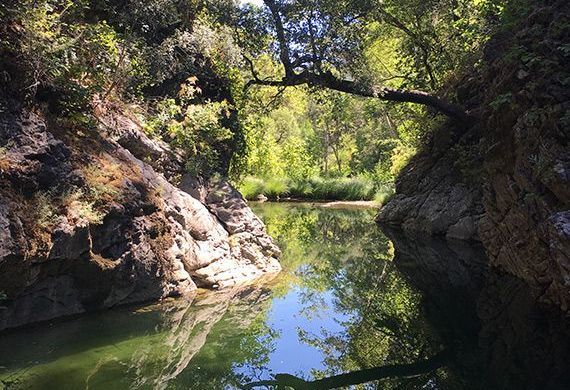 Franklin Pond
Take a walk around "behind" the creek to find Franklin Pond, the old swimming hole. Before the pool was built, campers cooled off in this spring-fed pond. Today, it's a place to sit and enjoy the peaceful sounds and sights. It's shaded by tall rocks and large sycamore trees.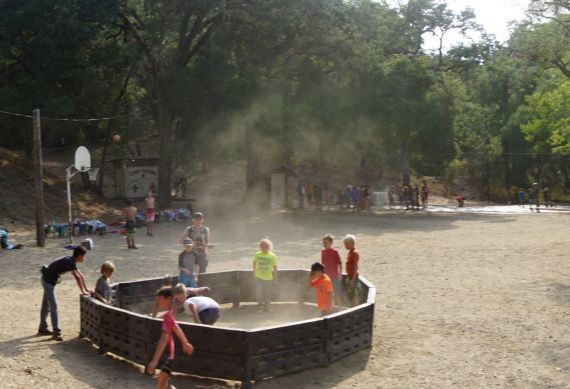 The Flat
"The Flat" of course is the most and maybe only flat space at Camp Natoma. It's the first spot you land when you arrive. It has many purposes - part parking lot (you'll see the green camp busses parked there in the summer!); it is home to the Flag Pole where campers gather each morning and evening for flag raising and lowering, songs, and announcements; it's home to the "Gaga Pit", "9-Square in the Air", and numerous other games. It's a gathering place and also home of the "Giant Mud Slick" that is often part of Saturday afternoon activities.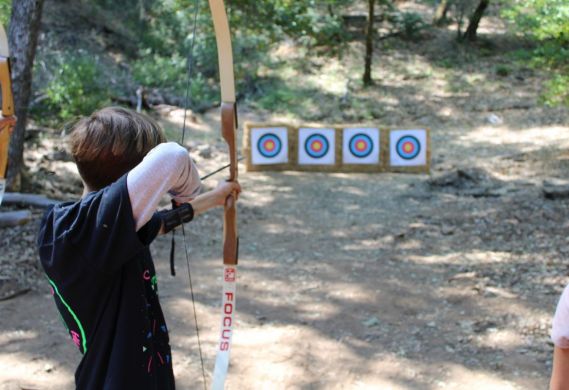 The Archery & Hatchet Ranges
The Archery Range and Hatchet Range are safe areas for campers to learn and practice target sport skills.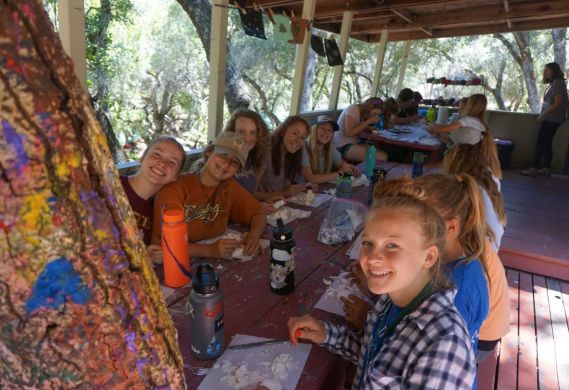 Handcrafts
Handcrafts is an open-air platform where creativity is inspired. Filled with the classics like lanyard string, friendship bracelets, paint, paper mache, and watercolors, you never know what unique project our creative program staff might be designing with campers this week!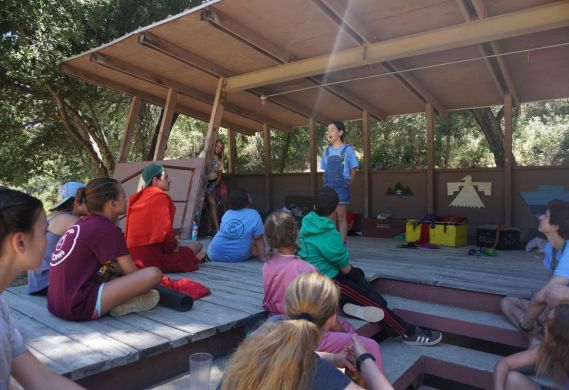 The Drama Platform
The Drama Platform is a stage and performing arts practice area. Campers gather here for their Drama activity, to practice skits, or perhaps perform in a special event Talent Show. Improv games, dancing and piano can often be heard on this great outdoor stage.