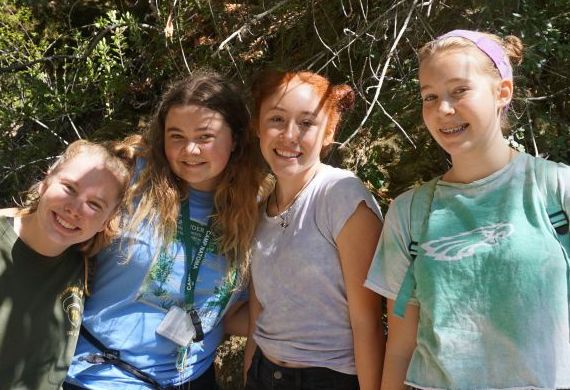 Hello Camp Natoma families & supporters,
Happy Spring! There are less than 100 days until the first day of Session 1!
We have received some great news from the state of California - overnight youth camps are officially allowed to open this summer!
Camp Natoma is prepared to provide exactly what kids need this summer - an ENTIRELY OUTDOORS, screen-free, fun week! This is what Camp Natoma has done for 80 years! Summer 2021 is an amazing opportunity for kids to absorb the healing effects of nature, reconnect with friends, and be inspired by Camp Natoma's staff.
Although we know some things will be a bit different this summer - more detailed pre-arrival health screenings, daily symptom checks, increased surface sanitation, new hand washing stations - we are still awaiting operating guidelines from the health department in order to finalize all of our health protocols. Camp staff now qualify for vaccinations and our protocols will follow the best practice advised this summer - with the holistic (mental, physical, social) health of our campers and staff at the forefront of our attention. Given the trends here in San Luis Obispo county and support from our advising medical professionals, we are optimistic that we will be able to make camp feel as normal as possible for kids. The great outdoors truly is the GREATEST place for kids this summer and Camp Natoma's 360 acres will provide rejuvenating nature experiences!
Now is the time to secure your desired camp session. We've received a lot of positive feedback from parents on the new camp registration system and hope that it is easy for you too! Remember, for future programs, you'll be a returning camper and many forms will not need to be completed again.
Coming soon - introduction of our 2021 Summer Staff Team! We have an all-star line up ready to provide your camper with "the best week all summer!"
Lastly, if you'd like to get involved with Camp Natoma this spring, there are many ways to support!
Sign up for a Volunteer Service Day
Invite a friend to register for summer programs
Donate to the Campership Fund
Become a Business Sponsor or Individual Donor
Donate a needed supply: 4WD truck, building materials, craft supplies
If you have any questions, please don't hesitate to give us a call! 805-316-0163
Sincerely,
Emily Zbin
Executive Director